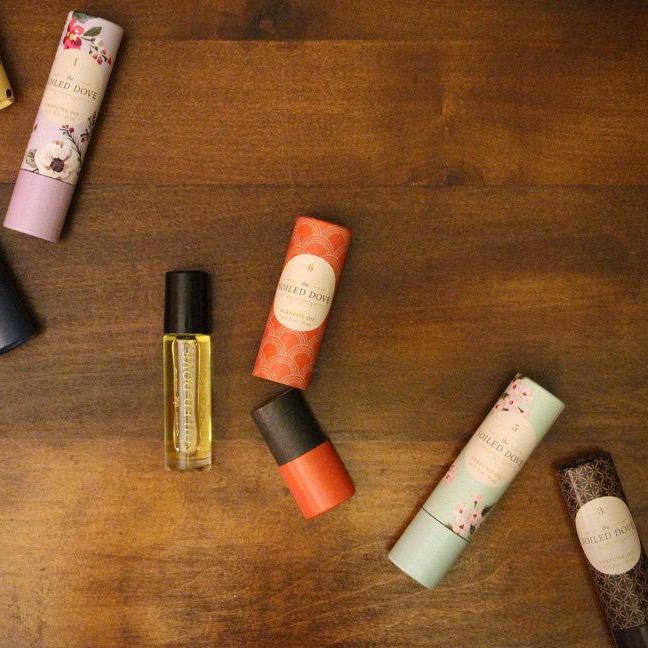 The Soiled Dove
Soiled Dove Sample Size - Perfume Oil
Choose the perfumes you would like to try out!

The Soiled dove floral perfume oil samples are blended carefully by hand in small batches and poured into a glass vial with applicator cap.

Sets of three or more is sent in a gift box made of eco friendly material.
. . . . .
1. Violette • Spicy Orchid, Violet and Black Pepper
2. Ruby • Raspberry, Rose and Peach
3. Pearl • Jasmine, Petitgrain, Vanilla, Frankincense and Myrrh
4. Hazel • Tobacco, Vanilla and Rose
5. Matilda • Lavender, Rosemary, Ylang Ylang and Citrus
6. Josephine • Jasmine, Mahogany and Grapefruit
7. Flora • Pomegranate, Bergamot and Black Tea
8. Vera • Valencia, Saffron and Fig
9. Lillian • Orchid, Berries, Black Pepper and Allspice
10. Effie • Black Cherry and Peppercorn
11. Maxine • Vanilla and Leather
12. Maribelle • Peach, Dogwood and Almond
. . . . .
Ingredients: Proprietary Fragrance Blend, Fractionated Coconut Oil. Vegan.

The Soiled Dove
The Soiled Dove specializes in scents from a bygone era, a time when one's greatest luxury was the brief but quiet escape of a clawfoot tub. The scents are named for the strong women who persevered the only way they could, with packaging reminiscent of the ditsy patterns on their worn frocks and the faded wallpapers of the rooms they occupied.

Created by owner Riley Fouts, The Soiled Dove serves a sister company to her Madame Scodioli line. (A true Madame needs her doves, right?) In contrast to her darker, moodier sister, The Soiled Dove will concentrate on lighter floral based scents in refined, feminine packaging.