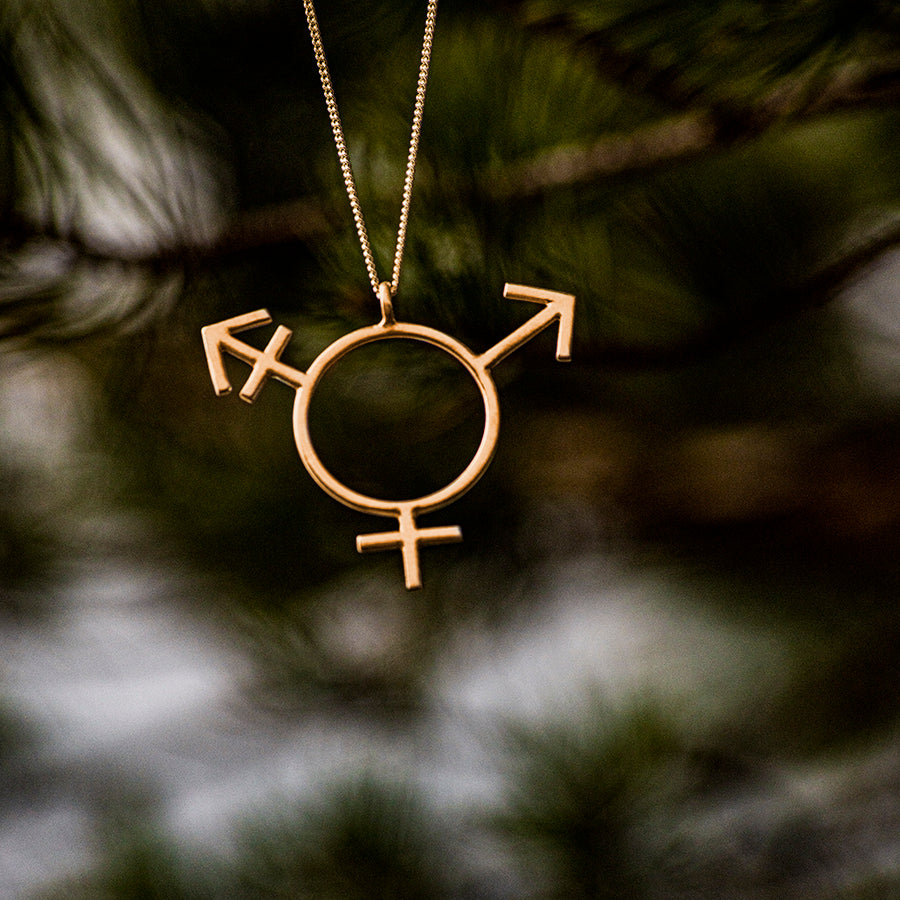 Wild & Arrow
Marsha & James - Trans Symbol Necklace Bronze
We are so proud of our new Symbol Pendant!
Trans symbol necklace made in solid bronze, with gold plated silver chain in your desired length.
We also make this necklace in silver, find it here.
Welcome to our store at Södermalm in Stockholm to try it on!
- Solid Bronze Symbol made to last
- Symbol Pendant is approx 5x4cm, 2mm thick
- Shipped in Gift Box
- Gold Plated Sterling Silver Chain is made with a minimum of 90% Recycled Silver and 100% Recycled Gold.

*Our most popular chain lengths are 45cm for a short necklace and 70cm for a long one. These are the lengths in the photos. You are welcome to try it on and change length later.

Your jewelry will arrive in a Wild & Arrow gift box made of eco friendly fiber. Store your jewelry in this box when not wearing to make it last a lifetime.
Ethical vegan production and materials, green studio practices.

This pendant is named after two strong and amazing people in history. 

Marsha P. Johnson (1945 – 1992)
An activist, self-identified drag queen, performer, and survivor. She was a prominent figure in the Stonewall uprising of 1969. Marsha went by "BLACK Marsha" before settling on Marsha P. Johnson. The "P" stood for "Pay It No Mind," which is what Marsha would say in response to questions about her gender.

James Barry (1789-1865)
A celebrated surgeon in the British Army; James performed one of the first documented cesarean sections in which both mother and infant survived. James also worked to improve access to clean water for rich and poor alike, and drew up strict rules for the humane treatment of patients.
Today we might call Barry a trans man: someone who was assigned female at birth but who identified as a man and transitioned their name and appearance to align with that understanding of themselves. Barry could not have used the word trans to describe himself—it was first used in this context in 1974 — but his story has many elements that transgender people today might find familiar.

--
Halsband med trans-symbol-hänge i solid brons inklusive guldpläterad silverkedja i önskad längd.
Vi gör våra bronssmycken utan någon plätering så att dessa går att polera till sin gyllene yta igen oavsett hur många år smycket använts.

- Transsymbolhänge i brons
- Symbolen är ca 5cm x 4cm x 2mm
- Skickas i presentask
- Vår Guldpläterade Silverkedja är tillverkad med 100% etiskt återvunnet guld

Våra kedjor är tillverkade i Italien med minst 90% återvunnet silver och 100% återvunnet guld.
Handformad symboldesign, gjuten i brons och slutligen slipad för hand i vår verkstad i anslutning till butiken på Södermalm.