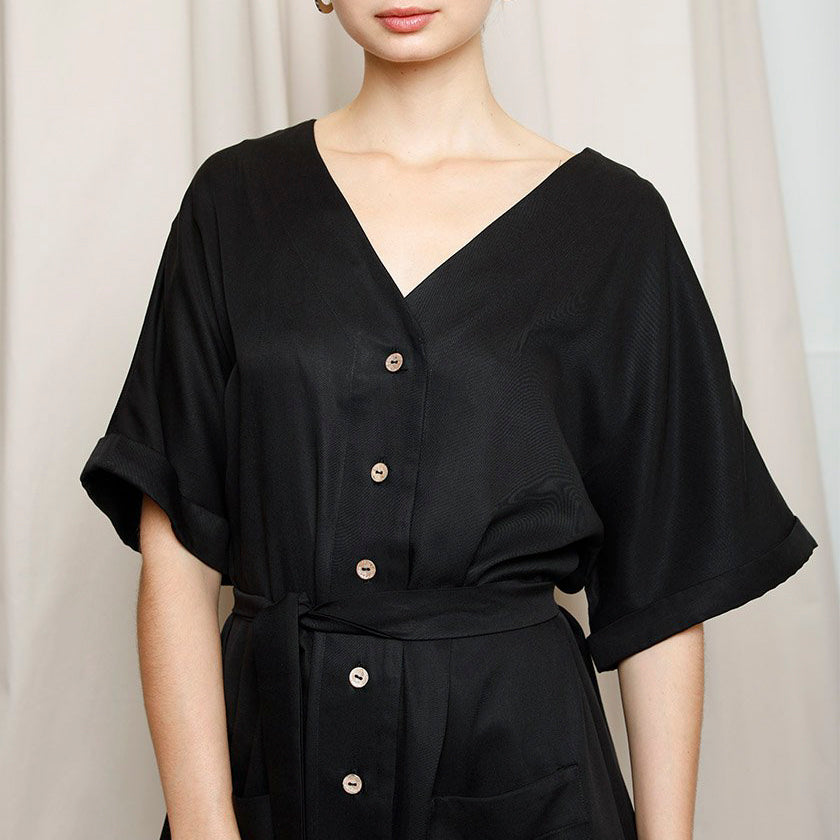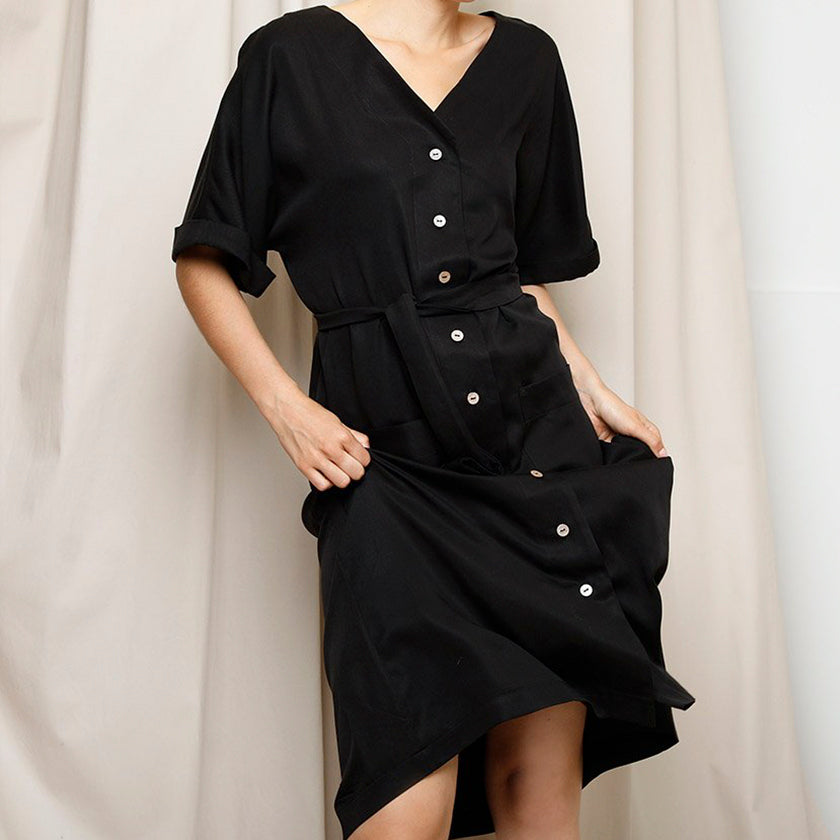 Noumenon
Louise Dress, Tencel Black Size XS
This black maxi dress by Noumenon is such an easy option to wear on those careless spring/summer days, where you just wander around the city and have dinner with your favourite people at the end of the day. This dress will definitely create memorable moments full of laughter and good vibes, trust us on this. We can't wait for you to feel this energy.
Loose fitted, long dress with playful buttons at the front panel
Includes a removable belt and has wide breathable sleeves
Ethically Produced in Lithuania
Recycled Paper tags printed with water based ink, which are made in Italy
The model is 1.78 cm and is wearing size S
Tencel, a fiber made from the wood pulp of trees that are grown and replaced on specialized tree farms. Unlike most cellulosic fabrics, Tencel is produced using recyclable, Earth-friendly solvents.


Noumenon was founded in 2016 by AMFI alumna Dena Simaite, with the idea to combine ethics with aesthetics.

Inspired by the Noumenal world of the philosopher Kant, Dena's vision is to create cruelty-free fashion which is ethically produced yet sophisticated. The timeless garments are composed for the conscious woman who wants to feel beautiful and comfortable, from the inside and out.
For Dena, design and quality are key. She believes that fashion is even more beautiful when created ethically and cruelty-free. It is therefore not a surprise that she thinks highly of pure fabrics. The collection exists of linen, organic cotton, cupro and Tencel (recycled woodpulp), but Simaite also works with innovative recycled fabrics and gives surplus fabrics a new life. Every fabric and garment finds its origin in Europe, to reduce as much CO2 as possible. Furthermore the ink used for the prints are environmentally friendly. Also, the brand labels are made from recycled cotton and the tags are made of recycled paper. Last but not least, every order placed in Amsterdam will be delivered in a recycled package by the 100% electric company car BIRO.

With Noumenon Dena hopes to the change the world in a positive way. Her motto is: 'Change the world, and look amazing while you do it.'