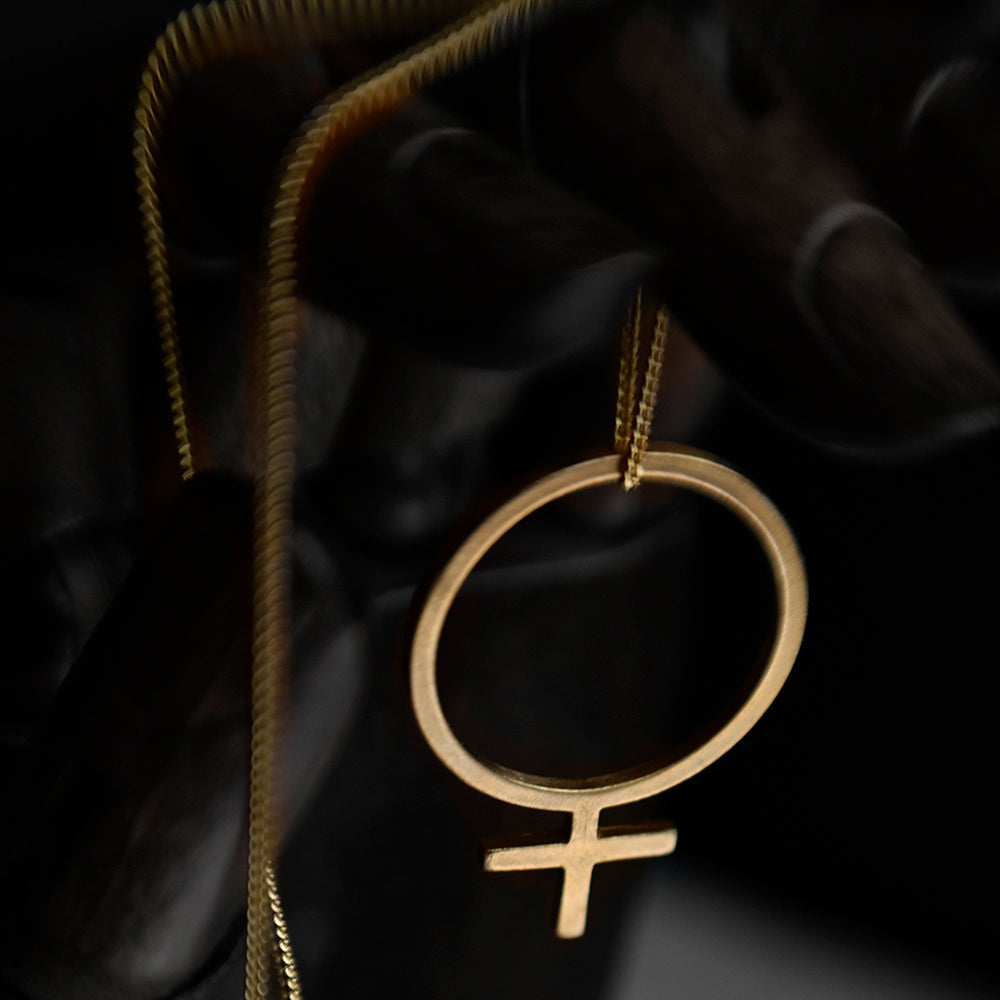 Wild & Arrow
Hilma Feminist Necklace Bronze
Feminist
/Female/Venus Symbol Pendant in Bronze with Gold Plated Sterling Silver Chain or your own choice of color.
-
Solid Bronze
Symbol made to last
- Symbol Pendant is approx 3 x 4cm, 2mm thick
- Shipped in Gift Box
- Sterling Silver Chain in your choice of color, we suggest a 50-70cm long chain.
Your jewelry will arrive in a Wild & Arrow gift box made of eco friendly fiber. Store your jewelry in this box when not wearing to make it last a lifetime.
Ethical vegan production and materials, green studio practices.

The Hilma pendant is cast from our original design by our casting partner. Then each symbol is lovingly sanded and finished by hand in our studio in Stockholm. 
Welcome to our store at Södermalm to try them on!
Your jewelry will arrive in a matte black eco friendly gift box with Wild & Arrow logo.

This necklace is named after Hilma af Klint (1864-1944), a Swedish artist whose paintings were among the first abstract art.
However she was overlooked with her male peers, including Piet Mondrian and Wassily Kandinsky, receiving the limelight.
A considerable body of her abstract work predates the first purely abstract compositions by Kandinsky.
"Wear this necklace to remember that our uniqueness is what makes us great, not our gender. A statement pendant for equality!" Says our designer Miia.

--
Halsband med Feminist / kvinno / venus-symbol ♀  i solid brons inklusive guldpläterad silverkedja, eller valfri färg i önskad längd.
Vi gör våra bronssmycken utan någon plätering så att dessa går att polera till sin gyllene yta igen oavsett hur många år smycket använts.

- Symbol-hänget i brons är ca 3cm x 4cm x 2mm
- Skickas i presentask
- Sterling Silver Kedja i valfri färg, vi föreslår en 50cm-70cm lång till denna symbol

Våra kedjor är tillverkade i Italien med minst 90% återvunnet silver och 100% återvunnet guld.
Handformad symboldesign, gjuten i brons och slutligen slipad för hand i vår verkstad i anslutning till butiken på Södermalm.