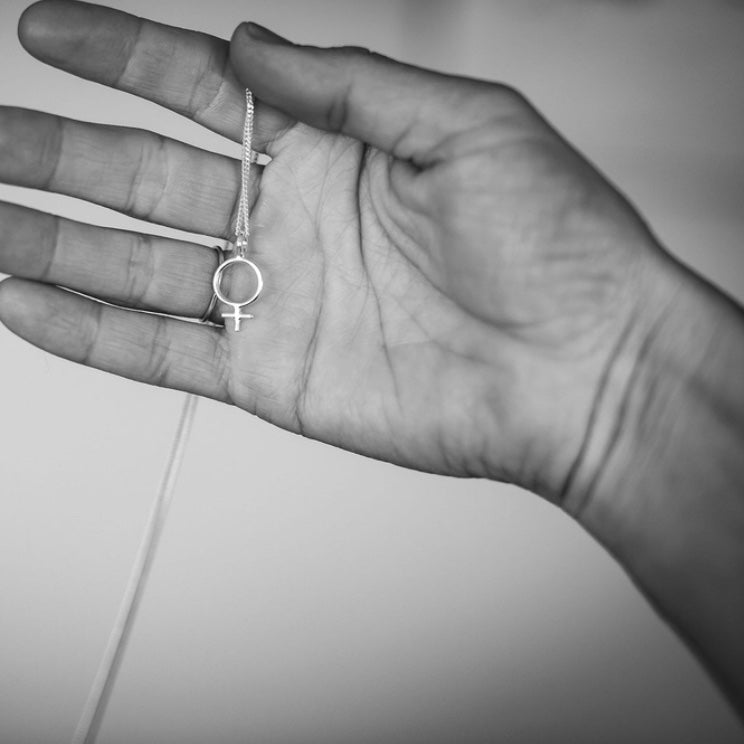 Wild & Arrow
Ada Feminist Necklace Silver
Feminist
/Female/Venus Symbol Pendant in Sterling Silver.
We make the silver necklace in brushed silver or oxidized dark silver.
Our hand-carved design cast in recycled silver, designed and finished by hand in our studio at Södermalm in Stockholm. Welcome to our store to try them on!

- Recycled eco friendly sterling silver
-
Oxidized Dark
or Shiny Silver
- Symbol Pendant is approx 18x12mm excluding loop
- Shipped in Gift Box
- Sterling Silver Chain (45cm and 70cm long in photos)
Your jewelry will arrive in a Wild & Arrow gift box made of eco friendly fiber.
Ethical vegan production and materials, green studio practices.

This necklace is named after Ada Nilsson (1872 – 1964), one of the first female doctors in Sweden and a pioneer in the early womens rights movement. She was one of the founders of "Tidevarvet" magazine, "Frisinnade Kvinnor" organisation and a driving force behind a number of other organisations for peace, women´s rights and democracy.
--
Halsband med Feminist/kvinnosymbol ♀  i silver inklusive kedja i önskad längd.
Vi gör våra silversmycken i skinande silver eller oxiderat mörkt grå/svart silver.
Handskulpterad design, gjuten i miljövänlig återvunnen silver och slutligen slipad för hand i vår verkstad i anslutning till butiken på Södermalm.

- Äkta Sterling Silver Hänge (återvunnen eko-silver)
- Oxiderad Mörk eller Skinande Silver
- Symbolhänget är ca 18x12mm exklusive loop
- Skickas i presentask
- Sterling Silver Kedja (45cm & 70cm lång i bilderna)

Halsbandet är döpt efter Ada Nilsson (1872 – 1964),  en av Sveriges första kvinnliga läkare och en förgrundsgestalt i den tidiga svenska kvinnorörelsen. Hon var ansvarig utgivare för Tidningen Tidevarvet, och en av initiativtagarna till organisationen Frisinnade Kvinnor, men även en drivande kraft i flera föreningar som verkade för jämställdhet, fred och demokrati.