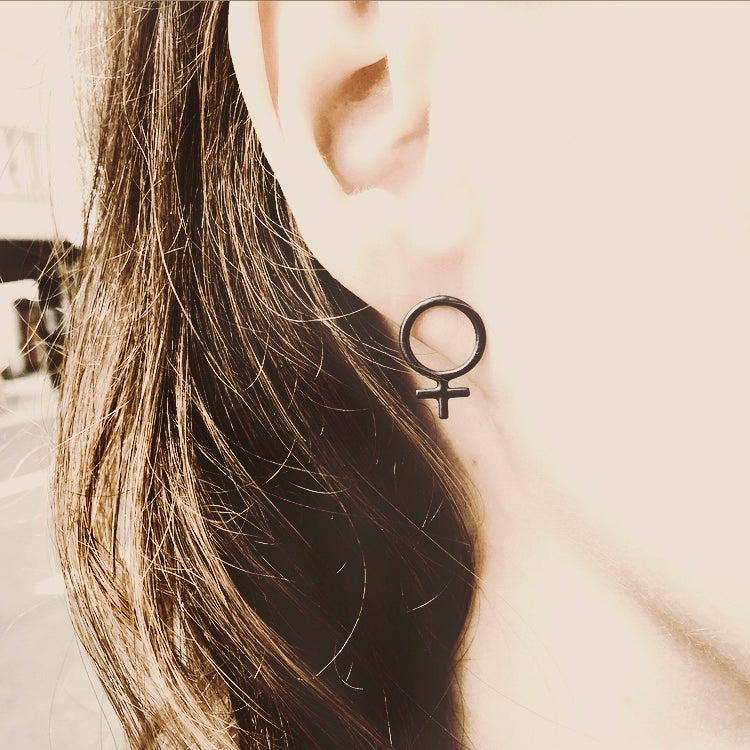 Wild & Arrow
Ada Feminist Earring Silver or Bronze
Feminist/Female Symbol earring in Sterling Silver or Golden Bronze.
Our hand-carved design cast in recycled silver or solid bronze.
We make our castings with the help from our casting partner. Designed, soldered and finished by hand in our small studio at Södermalm in Stockholm.
Bronze earrings come with silver ear post and backing.
- Solid Bronze / Sterling Silver
-
Oxidized Dark
or Shiny Silver
- Symbol is approx 18x12mm
- Shipped in Gift Box
Your jewelry will arrive in a Wild & Arrow gift box made of eco friendly fiber.
Bronze and silver is recyclable.
Ethical vegan production and materials, green studio practices.

These earrings are named after Ada Nilsson (1872 – 1964), one of the first female doctors in Sweden and a pioneer in the early womens rights movement. She was one of the founders of "Tidevarvet" magazine, "Frisinnade Kvinnor" organisation and a driving force behind a number of other organisations for peace, women´s rights and democracy.
--
Feminist-örhänge ♀  i återvunnen silver eller gyllene brons
Alla Wild & Arrow smycken är skulpterade för hand i ateljén i Stockholm.
Sedan gjuts de i små kvantiteter, varefter vi slipar, löder och färdigställer dem i verkstaden på Södermalm.

Örhänget är döpt efter Ada Nilsson (1872 – 1964),  en av Sveriges första kvinnliga läkare och en förgrundsgestalt i den tidiga svenska kvinnorörelsen. Hon var ansvarig utgivare för Tidningen Tidevarvet, och en av initiativtagarna till organisationen Frisinnade Kvinnor, men även en drivande kraft i flera föreningar som verkade för jämställdhet, fred och demokrati.