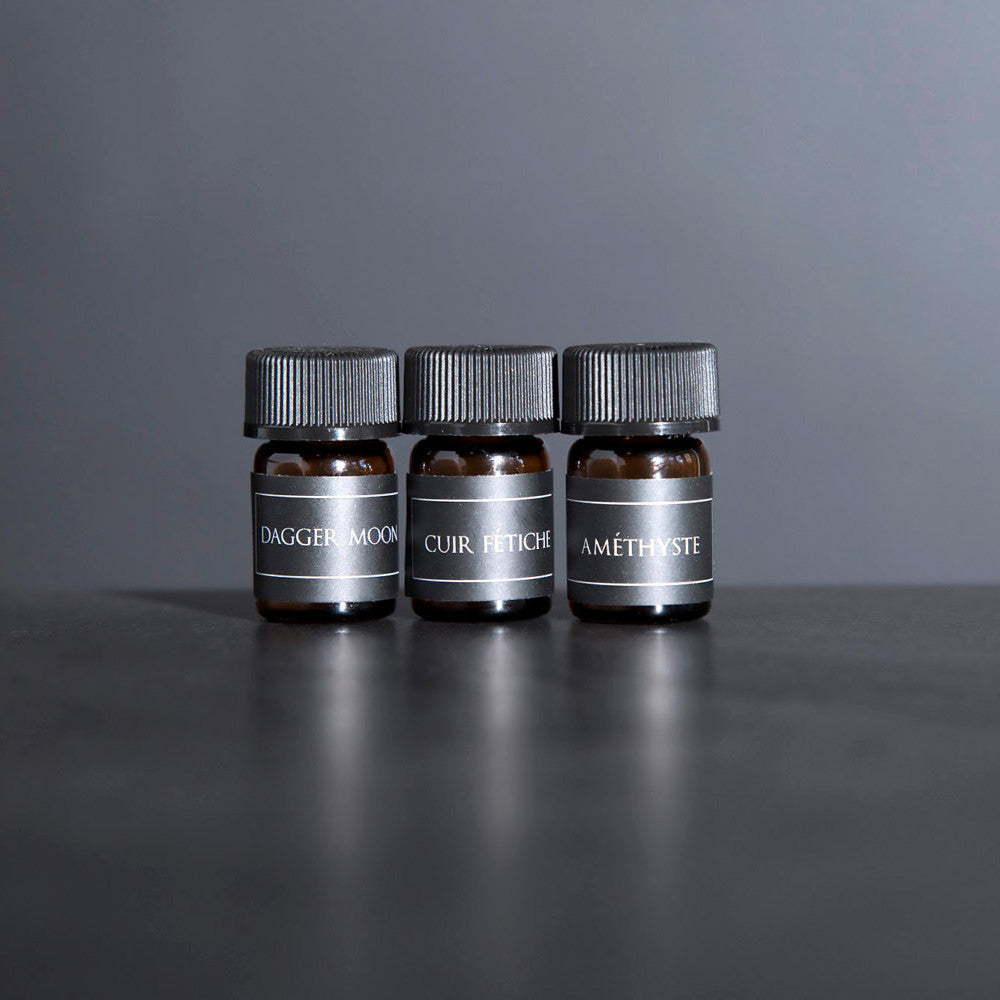 LVNEA
LVNEA Sample Size Botanical Natural Perfume
Artisan Perfume Sample Size by LVNEA.
We know, it is hard to choose perfume online. These samples are the answer and the perfume testers arrive in small beautiful mini bottles!

Mini samples filled with your choice of natural perfume offered by Lvnea. Good for about 6 applications. Each vial contains at least 1 ml of perfume (comes in a 2.5 ml bottle that is a little less than halfway filled).
Sets of more than three samples are sent in a gift box.

Choose from following perfumes by LVNEA:

BLACK SEA: UNISEX: a botanical ambergris blend with hints of wood, burnt sea shells, musk, cedar, coconut, oakmoss, and sandalwood.
CULTE SOLAIRE: UNISEX: NOT AVAILABLE IN FULL SIZE juicy citrus, sun-drenched incense, and sacred woods.

DAGGER MOON: UNISEX: dense woodlands, ruh khus, juniper berry, palo santo, coffee, and nutmeg.
FERN AND MOSS: UNISEX: Fresh Herbs, Lavender, Oakmoss. Best Seller!

GHOST PINE: UNISEX: earthy and rich, a foggy wet forest on an overcast day. Smells like pine needles, wet leaves, moss and wood. Best Seller!

L'ALCHIMIE: Blood orange, vanilla, rosemary, black pepper, and sweet resins.

L'ÉTRANGER: Whiskey, Tobacco, Vanilla, Wood

SPIRITUUM: UNISEX: Sacred Galbanum, Patchouli, Oakmoss
Ingredients in all perfumes: jojoba oil, coconut oil, essential oil blend. Vegan


Shipped from our store in Stockholm in 1-2 days. Welcome to Södermalm to try on these scents. Can not be returned.

[lou - nay] - (n) the moon's day; 
Lvnea explores the spaces between the natural world and that of the ethereal. With a focus on pure plant essences and unexpected aromatic combinations, raw materials from rare natural extractions are sourced from around the world to evoke distant memories and awaken unwritten desires.
Each scent begins as a distinct story, transforming the conceptual into high olfactory art. Traditional French parfumerie techniques are juxtaposed with luxuriantly minimal design, creating scents that are at once reminiscent of another world, yet deeply familiar.
Natural, Botanical, Unisex. Hand-crafted in Montreal, QC.